Electric bikes offered for rent in Libourne and in the Gironde district by Lovelec33.
Electric bikes 26 inches
From 1m62
Electric bikes 28 inches
Beyond 1m72
Electric bikes 27,5 inches
ALL WAY
Electric bikes 27,5 inches
Beyond 1m70
Electric bikes 24 inches
From 1m45
The electric bikes Lovelec33 are equiped with a smart electric assistance, simple and progressive, which take account of your eventual tiredness and adapt itself to your own rythme. This system relies on sensors assessing the power and rythme of your pedaling. Lovelec33 has also integrated an electronic controller which specifies the sweet and progressive assistance you could need in the same time than the 250 watts propulsion engine improves the bike's driving dynamics. The belt transmission is clean and silent.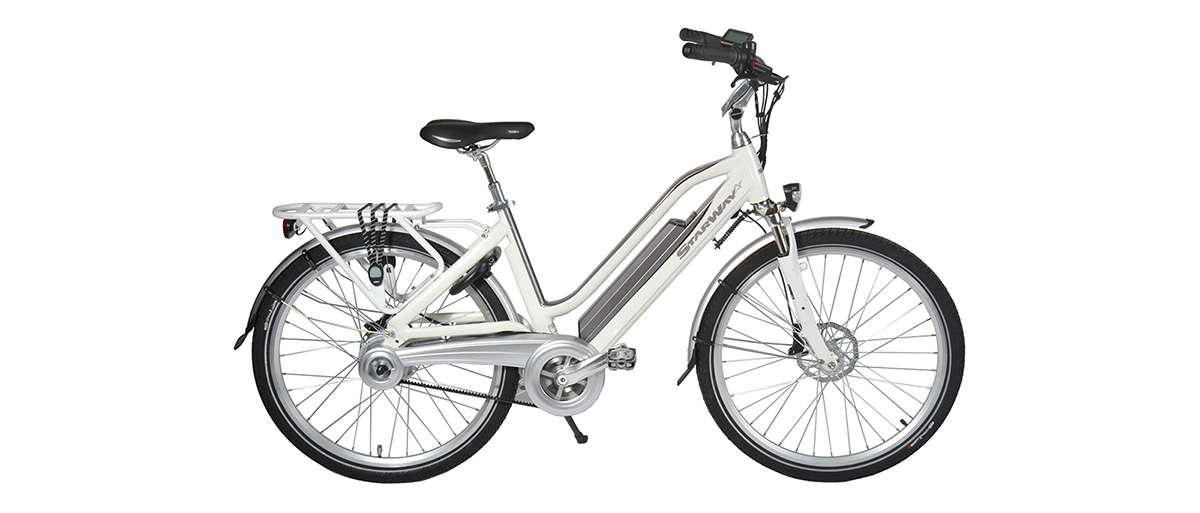 Lovelec33, official partner of the electric bikes manufacturer Starway, provides you with a range of bicycles adapted for all kind of people in and around Libourne area and in the Gironde district. Equiped with the last patented technology « Regul 6 », our electric powered bikes provide you a simple to use assistance, progressive and smart. This will give you the joy of biking effortlessly.
The « Regul 6 » technology is smart because it adapts to your needs while taking care of the external conditions, of your own state of tiredness and of your own athletic abilities. This
technology used on our electric bikes to rent is also easy to use because it is generated automatically by the propulsion engine to bring you the energy you need. This device helps you during your ride by limiting the losts of energy. No more complicated derailleur and so on ! At last, it is progressive because this assistance follows the rythme you provide to your ride and is being activated automatically when needed.
This electric bikes are also equiped with a booster which allows you to give a boost of energy in some particular situations as hill starts or if you are suddenly in need of acceleration. Then don't hesitate, come to meet us on our different rental points and discover our renting fees.